Operating systems
Our app is available for free download for Android & iOS devices in the respective store.
Not only time recording
Our holiday management, projects and travel expenses modules can also be used via the app
Simple application
Stamped in with one click and stamped out with one click
Offline function
Bookings can also be made without internet reception. Thanks to the offline function, all times are saved in the queue and transmitted to the central office at the next network reception.
GPS function
The GPS function can be activated to attach the location to the time booking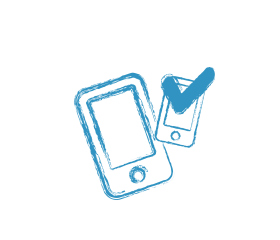 App SaaS.de Time tracking
for smartphone
Operating systems
Our app is available for free download for Android & iOS devices in the respective store.
Use on the tablet
You can install our app free of charge on a common Android tablet or iPad and use it with PIN entry
Use at the terminal
We offer you the appropriate hardware with RFID chips for convenient booking
Project bookings
If you would also like to book directly on projects at the time clock, this can be enabled for the employees.
Request absences
Activate absences for the time clock so that employees can also request absences directly on the terminal/tablet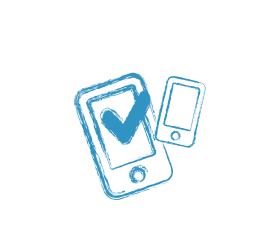 App SaaS.de Time clock
for tablet or terminal
Autostart
of the SaaS.de application when connected to the Internet
Software updates
are regularly imported by us
RFID reader
Convenient booking with RFID chip
RFID chips
You can purchase our SaaS.de chips for €4 net/piece or use your own RFID chips, provided the
Mifare standard is fulfilled
Rental model
The SaaS.de terminal is offered at a monthly rental price of €29.90 net
SaaS.de Terminal
Hardware solution time clock with RFID chips
Convince yourself and test SaaS.de fully!
Arrange a free consultation
We are happy to discuss over the phone what is possible with SaaS.de and how we can meet your needs!